Post by Yoru Wazashi on Feb 18, 2020 0:48:35 GMT -5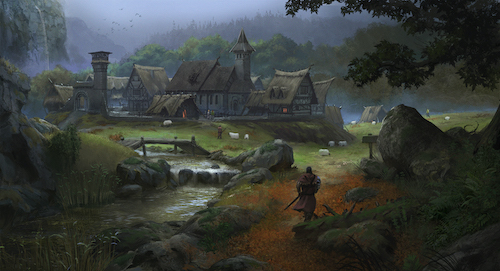 It was morning in the small village of 'Veii', a modest village along the road travelling between the major cities of the noble realm. Some of the modest farmers were already out tilling the soil and preparing to plant new crops for the coming year, some had opened up shop for other villagers to do business at, and some, like Yoru, had opted to instead ignore the bounty that this sweet morning had to offer by instead sleeping in. Sleeping on the roof of a building, Yoru would gradually begin to stir, called forth by the sounds of commotion on the streets below. Shouts of "Good morning neighbour" and "Why hello!" were all exchanged as this community of small town folk greeted one another in their morning ritual. Their sounds eventually roused Yoru from his sleep, forcing him to roll down off the roof and onto the ground, still groggily trying to wake up. How long had he slept last night?
Only a few of the locals paid him any mind as he walked through the village square, leaning on his hunting spear like a walking stick. The teen's eyes were glazed over and tired looking, much like they usually were when he wasn't hunting. He heard a few lesser nobles call him some choice words, but they, much like everyone else around Yoru, failed to get through to the boy's mind. Instead, he was singularly focused on the well at the center of town where a line of women were collecting buckets of water for their homes.
After waiting for a few moments, Yoru would pull up a bucket of water and pour it over his head. Instantly, he was freezing cold, his body shaking and his teeth chattering. However, the grime and dirt that had clung to him for the past three or so days was removed in one feel swoop- leaving the cold Yoru feeling rather cleanly right then and there. The women around him looked at him like he had a few screws loose, not managing to work up the courage to say anything whilst the redhead sluggishly walked over to the edge of the dirt-road town to lay down in the grass, splayed out so that the warm sun could warm him up a bit faster.
Gosh, this entire place felt so... So boring!
He'd come to the noble realms to receive his Grimoire at the upcoming ceremony, but now that he had come so much earlier than he had originally planned he was struggling to figure out what to do with all of his free time! There was hunting of course, and after his escapade with the monster boar and Naxel it was the first thing on his mind- but jumping straight back into another multi-day hunt across the wilderness wasn't the best idea whilst he was still recovering from the previous one. Thus, with his usual go-to option off the table, Yoru was left laying on the grass trying to figure out what to do to kill time that didn't involve having to try and talk to a bunch of old and paranoid villagers who only tolerated his presence because of the high quality pelts he'd sold them the day prior.
Yoru slowly blinked, peeling off his wet shirt and placing it beneath his head like a pillow while he watched the nearby stream gradually pass him by. He could see a fish trying to swim against the current. He wondered how long it would last before its strength finally gave out and swept it away. Was it the last of its family? Or was it too stubborn to realize that they were waiting for him downstream? Either way, Yoru lazily watched the road leading into the village, waiting for something or someone interesting to fall into his lap...
638/638