Post by Yoru Wazashi on Feb 18, 2020 0:23:05 GMT -5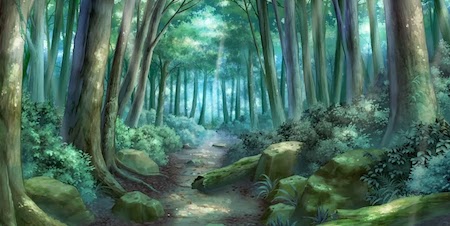 Yoru clung to his hunting spear as he squatted in a branch above the forest floor. The simple but effective hunting tool had always been his weapon of choice, particularly when facing this uniquely challenging prey: wild boar. This wasn't just any wild boar though, no siree, this was a
monstrous
boar! From the rumors that Yoru had been hearing whilst traveling from the Forsaken Realm to the Noble one to attend the Grimoire Ceremony there was a massive boar that was somewhere roaming the countryside causing all manner of mayhem- the very least of which was terrorizing the livestock of the local farmers. At first, Yoru had thought the tellings to be exaggerated and over-the-top. Now that he had taken time to go out of his way and investigate the whole affair though? He was having a hard time telling himself that there was nothing out of place here.
These forests were tame in comparison to the wilds that sprawled all across the fringes of the Forsaken Realm, the untamed wilderness that had touches of fey and magic imbued into the very roots of the earth. Something so massive and monstrous seemed much more suited there than here, this quiet forest that ran along the country roads of the Noble Realm. The whole thing was strange. Still, Yoru hadn't come so far inland just to get his Grimoire handed to him and nothing else. He was there to hunt in the lead up to the ceremony! With how crazy all these city folk and inner-ringers were, the only place that the wild teen felt truly at home was with a spear in his hand and with moderate lower-back pain from tracking animal prints in the dirt.
He dropped down to the ground, his face more alert and attentive looking than usual as he scanned the tracks that had caught his eye. When he inspected them closer, he froze up a bit. "Whoaaa..." He said, eyes wide as he looked over the huge hoofprint that could only have been left behind by this monstrous wild boar he'd heard so much about. It had to have been at least 20 feet long, its hoofprints were the size of small pillars! Yoru had never seen signs of such a wild and untamed animal before. Was this the kind of thing that he should have gone to alert the magic knights about? Heck, were there even any around in this neck of the literal woods? Yoru had to think for a bit, squatting down on the side of the road and humming to himself as he considered his options. These tracks were fresh, if he waited then there was a good chance he'd end up having to hunt it down all over again- not to mention it would have free reign to cause all sorts of chaos.
No. It had to die today. Yoru would see to that.
"Fufu, it's so big. So large and juicey and girthy. I can't wait to watch it bleed and skin it!" He said excitedly, the chance to kill such a formidable prey pumping him full with an adrenaline that he could only describe as 'the thrill of the hunt'. Yoru twirled his spear, his eyes wide and pupils dilated, his mind going into autopilot as he began eagerly chasing after the monster boar's tracks. He didn't need any fancy Grimoire to kill a boar, not when he had been hunting them since the day he could first hold a spear!
"Hee hee, ho ho, a-boar hunting we will go!~" Yoru shouted, singing like a mad lad as he ran along the forest floor. Were it a more cautious animal he would have erred on the side of stealth, but there was nothing cautious about wild boar. They were big, lumbering, and were prone to attack first and ask questions after they gored you with their tusks. There was no need to be quiet, he would challenge them purely by being in its presence, he knew that it would answer his call with the sound of thundering hooves and angered squeals. God, it was all so perfect- so exciting. He could feel his mouth growing wet with anticipation at the thought of getting to hunt and kill such a huge monster, it was an intoxicating feeling. The danger of it all only made the thrill of the hunt that more potent!
734/734 WC