Post by Riley on Oct 15, 2019 2:32:19 GMT -5
[nospaces]
[attr="class","colorBG"]
[attr="class","colorHead"]
[attr="class","colorText1"]Do not oppose me ––
[attr="class","colorText2"]I am the Silvas' strength --
[attr="class","colorBack"]
[attr="class","color1"]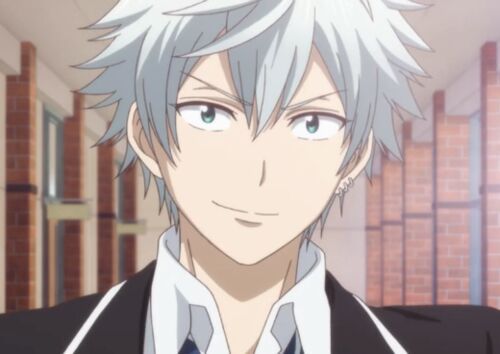 [attr="class","color2"]
[attr="class","colorWay"]
[attr="class","colorBody"]
[attr="class","colorPost"]
Riley finally got back to his feet now that his elemental was out of commission. Additionally, he was able to see that the boy who called himself Owain also managed to take out one of the elementals. The Silva raised an eyebrow,
"Geez, he may actually be as strong as I am."
the teen thought to himself. It wasn't exactly something that the water mage wanted to think about at the moment. Of course, as they moved on to the next room, it didn't help that Yuurei volunteered to take care of things by himself. Riley looked up towards the storm elemental that was now facing the group.
"He's going to take care of that thing all by himself? Even while maintaining the spells he already cast on the rest of us? That's got to be pretty draining."
the Silva thought to himself. Knowing that Yuurei was a Krane, the silver-haired mage was confident in the fact that he had large amounts of mana given how strong he was, and his nobility of course. Just as fast as it appeared, all of Riley's doubt disappeared when Yuurei used one of the strongest spells the boy had ever seen. A giant humanoid wind beast appeared before the wind & lightning beast. "What the hell is that?!" he asked himself. Upon assumption alone, he figured that the beast was some type of golem magic that the Captain used. However, he got a little skeptical when the Captain's golem could use magic of its own. Using powerful wind arrows, the Captain's golem demolished the four elementals that were created by the original big one. Not only that, but within a matter of seconds, both the Captain and his golem managed to take down the giant elemental. Riley, as well as everyone else, didn't seem to be very responsive to what just happened. Who could blame them? The teen was speechless.
"This is what I've got to beat…"
he thought to himself.
[break][break]
The group moved along to the next area, this time being led by the girl of the group. Riley was still trying to get over what he saw in the last room with the Captain, and was even more surprised at the fact that the golem was even able to shrink down and fit on his shoulder. He had a new outlook on the path that he'd have to walk in order to get to where he wanted to be. With the appearance of Yuurei as the new Captain, things only became all the more difficult. Riley prepared himself to fight against any elementals that may come across their path, but that was just before Isabelle announced that she'd be handling the next group of mana beasts by herself. Riley let out a puff of air,
"What a bunch of showoffs."
he thought. Ironically enough, the Silva had the same mindset. Apparently the girl's plan involved using items. She gave out a lot of warnings and reminders as they got closer to the elementals, but Riley didn't really pay much attention to those. He learned to sense Ki precisely because his sensory wasn't as good as some other people he knew. That way he wasn't completely lost in situations like these. Though when their opponents finally appeared, the silver-haired mage was a bit surprised by the fact that their numbers increased. It wasn't by much, but it was still an increase in enemies nonetheless. However, despite that fact, Belle didn't seem to be worried. Besides, they still had Yuurei and his golem on their side. For those reasons, Riley was able to stay calm as well. He watched as Belle used a couple of different attacks from a couple of different items that proved to be enough to take care of the elementals.
"Despite her mana signature, she's actually pretty tough huh…"
the Silva thought. It was also another issue in his eyes.Just meant another hurdle for him.
[break][break]
[F2, R2]
[break][break]
Riley, despite the fact that he had to sit back and watch Yuurei and Belle fight, was glad that he got the chance to see what the both of them could do. It was important to know what he had to overcome so that he knew just how much harder he needed to work. Speaking of working harder. He was getting restless, and decided to take off ahead of the group, hoping that they would follow right behind him. At least he figured that Owain kid would, if anything, he was good for that much. "Thanks for the nice demonstration, but I still think I'd prefer fighting my own battles!" he exclaimed as he ran. His speed was still being hindered by the ferocity of the storm, but thanks to a combination of Yuurei's spell, and his own ability to adapt to the storm, he had been able to move faster. Besides, what could possibly be waiting for him up ahead that was more powerful than what he's already seen? More elementals?
"Those guys are jokes."
the Silva thought to himself with a slight smirk.
[break][break]
As he continued through the area, he noticed that a majority of his surroundings were ruins. "So I guess things don't exactly get any better as we continue moving forwards." he said to himself. Just like before, he spotted more elementals. At least in a place of ruin they didn't have much more to destroy. However, either way, they needed to be stopped. Opting to take on one of the wind elementals, Riley ran right for it. Most of the time, the Silva ended up fighting reactively when it came to these things simply because they had the edge on him in terms of speed. However, thanks to his adaptation, he had the edge this time. The elemental, unaware of this fact, was caught off guard as Riley attacked. "Take this!" the teen shouted as he aimed a punch right at the side of the beast's head. Luckily for him, the monster was paying attention to something else, so as it turned its head to face him, it actually ended up running right into the water mage's fist. The wind elemental, head seemed to burst into wind for a moment before trying to reconstruct itself. As it did this, the beast attempted to counter, aiming a punch right at Riley's gut. However, the Silva knew all too well the force of their attacks, as well as how fast they could move. He quickly pushed off the ground towards his right, hopping to the side as he turned his body in order to dodge the strike. Now with his left hand, he shot another punch right into the gut of the beast, this time completely taking him down.
[break][break]
However, he couldn't just stop there. "Water Creation Magic: Sea-Buster Trident!" he shouted. Spotting the remaining two wind elementals, Riley took aim with both of his tridents. Tossing his weapons as hard as he could, they both traveled right towards a wind elemental. He watched as the water tridents pierced right through the beasts' chests, eventually passing through them due to them simply being made out of wind. Though it wasn't quite enough to put them out of commission. Not only that, but the three lightning elementals were also in the area. It wasn't exactly the ideal situation to be in, but at least his team was still following behind him, hopefully.
[break][break]
Regardless, the teen still had some unfinished business in the form of the remaining 2 wind elementals. It wasn't going to be easy, but he had to use even more of his magic to take them down. "My control's still a bit shaky due to the storm, so aiming most of my spells will be a challenge." he started. "Then again, what if I just use a spell that I don't have to aim." he said, a small smirk appearing on his face. By this time, the two wind elementals were pretty much done recovering from his trident attack. The two of them disappeared into thin air just like one of the beasts did before. Rather than attempting to sense them out by their Ki or mana, Riley took action. "Water Dragon's Riptide!" he shouted. The Silva crossed his arms in the shape of an X in front of his face. A ring of water began to swell up within an area around him. As he thrust both arms outwards on either side of him, the swelling ring of water exploded with mana. Encircling the area around him were waves of water moving at a rapid enough pace to deal damage to these caught within. Unfortunately, the wind elementals were of those who would be claimed by the water spell. Though, Riley could tell that even that spell wouldn't be enough to finish them off. "And now to finish this" he said. The teen started up a rather loud and large inhalation, sucking up the mana around him in the form of water. "Water Dragon's...Roar!" the teen shouted, releasing a blast of water from his mouth that was enough to take down both of the elementals. He watched as they disappeared into nothing but mana, just like all the other defeated beasts. The teen kept at the ready as the wave around him surged with energy. The fight wasn't over yet.
[break][break]
WC: 1,551|TWC: 3,944|
Yuurei
Isabelle Erabus
Owain Barnett
[break][break]

Combat Summary: After watching Yuurei and Belle take down their enemies, Riley continued on into the second room, taking 3 wind elementals. (Another +3 with Momentum [3/10])
[break][break]
Spells Used[break]
Name of Spell: Water Dragon's Spiral Knuckle[break]
Elemental Type: Water[break]
Rank & Spell Type: Intermediate|Physical Reinforcement[break]
Range & Speed: Self|40m|20m/s[break]
Mana Cost: 20|10[break]
Stats Effected: Intermediate Rank Strength Buff[break]
Applicable Perks: N/a[break]
Description: Water rushes from Riley's grimoire, coating his hands in the liquid. However, unlike the weaker version of this spell, the water on the boy's fists is more agitated, spiraling and swirling viciously, increasing his strength.
[break][break]
Name of Spell: Sea-Buster Trident[break]
Elemental Type: Water[break]
Rank & Spell Type: Intermediate|Attack Creation[break]
Range & Speed: 40m|25m/s[break]
Mana Cost: 20|10[break]
Stats Effected: +4 Power[break]
Applicable Perks: Build-Up, Quick Shot[break]
Description: Riley creates a 2 meter long trident made completely of water. The Silva can wield the trident just like any other weapon, but he also has the option of throwing the trident anywhere within an area of 40 meters from himself. The user can create an extra trident for every 20 control they have.
[break][break]
Name of Spell: Water Dragon's Riptide[break]
Elemental Type: Water[break]
Rank & Spell Type: Junior|Attack Creation/Defense Creation[break]
Range & Speed: 10m AoE|15m/s[break]
Mana Cost: 10|5[break]
Stats Effected: +4 Durability[break]
Applicable Perks: Build-Up, Juggernaut, Quick Shot[break]
Description: Riley releases his magical power to create an area around him that is surging with waves of water. The water is capable of defending against spells as well as attacking if the opponents are caught in the rapids. The powerful water can deal junior damage and is capable of defending up to an intermediate rank's worth of damage.
[break][break]
Name of Spell: Water Dragon's Roar[break]
Elemental Type: Water[break]
Rank & Spell Type: Junior|Attack Creation[break]
Range & Speed: 25m|15 m/s[break]
Mana Cost: 10|5[break]
Stats Effected: +2 Power[break]
Applicable Perks: Build Up, Quick Shot[break]
Description: Riley takes in a deep breath of air, concentrating his mana into his mouth. Upon exhalation, the boy releases a cylindrical jet stream of water that blasts out towards his opponent. The stream has a radius of 10 meters. The boy can sustain this stream and aim it freely. Additionally, for every 10 control that Riley has, he can create another jet stream of water to use.
[break][break]
Stats[break]
Mana Skin: 8/8[break]
Health: 4/4[break]
Mana: 175/231[break]
Speed: 23 m/s[break]
Power: 62 (+6)[break]
Stamina: 65[break]
Durability: 62[break]
Sensory: 2[break]
Control: 47 (-15)[break][break]
Items[break]
Magic Knight's Mantle

[attr="class","colorFoot"]
[attr="class","colorWay"]
ulla
[newclass=.colorBG]width:400px;[/newclass]
[newclass=.colorHead]height:100px;background:#ddd;width:400px;overflow:hidden;line-height:100px;[/newclass]
[newclass=.colorWay]background:linear-gradient(45deg, #44558d, #b8d8da,#ddd);height:100px;width:500px;margin-left:-1000px;transition:.8s;[/newclass]
[newclass=.colorFoot]background-color:#ddd;height:10px;overflow:hidden;[/newclass]
[newclass=.colorFoot .colorWay]background:linear-gradient(45deg, #ddd, #b8d8da, #44558d);float:right;margin-right:-600px;[/newclass]
[newclass=.colorBG:hover .colorWay]margin-left:0px;transition:.5s;[/newclass]
[newclass=.colorBG:hover .colorFoot .colorWay]margin-right:0px;transition:.5s;[/newclass]
[newclass=.colorText1]color:#fff;font-family:source sans pro;text-transform:uppercase;font-size:12px;text-shadow:#aaa 1px 0,#aaa 0 1px,#aaa -1px 0,#aaa 0 -1px;float:left;margin-left:70px;transition:.5s;transition-delay:.3s;[/newclass]
[newclass=.colorText2]color:#fff;font-family:source sans pro;text-transform:uppercase;font-size:12px;text-shadow:#7590a9 1px 0,#7590a9 0 1px,#7590a9 -1px 0,#7590a9 0 -1px;float:left;margin-top:-100px;opacity:0;margin-left:90px;transition:.5s;[/newclass]
[newclass=.colorBG:hover .colorText1]opacity:0;margin-left:90px;transition:.3s;[/newclass]
[newclass=.colorBG:hover .colorText2]opacity:1;margin-left:50px;transition:.3s;transition-delay:.5s;[/newclass]
[newclass=.color1]float:left;margin-left:5px;opacity:.9999;-webkit-filter:grayscale(100%);-webkit-clip-path: polygon(25% 0%, 100% 0%, 75% 100%, 0% 100%);clip-path: polygon(25% 0%, 100% 0%, 75% 100%, 0% 100%);transition:1s;[/newclass]
[newclass=.color2]float:left;opacity:.5;margin-left:-20px;-webkit-filter:grayscale(100%);-webkit-clip-path: polygon(25% 0%, 100% 0%, 75% 100%, 0% 100%);clip-path: polygon(25% 0%, 100% 0%, 75% 100%, 0% 100%);transition:1s;[/newclass]
[newclass=.colorBack]background-color:#fff;width:190px;margin-right:-30px;float:right;-webkit-clip-path: polygon(11% 0%, 100% 0%, 75% 100%, 0% 100%);clip-path: polygon(13% 0%, 100% 0%, 87% 100%, 0% 100%);margin-top:-100px;[/newclass]
[newclass=.colorBody]padding:10px;width:380px;background-color:#fff;-webkit-filter:grayscale(100%);[/newclass]
[newclass=.colorPost]font-family:arial;font-size:10px;text-align:justify;border-left:#b8d8da 2px solid;margin:20px;padding:5px;padding-left:10px;[/newclass]
[newclass=.colorPost b]color:#5f77a5;[/newclass]
[newclass=.colorBG:hover .color1,.colorBG:hover .color2, .colorBG:hover .colorBody]-webkit-filter:grayscale(0%);transition:1s;[/newclass]