Post by Silas Vermillion❃ on Aug 5, 2019 1:05:56 GMT -5
Claire Baum
★ gENERAL INFO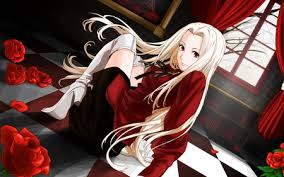 Irisviel Von Einzbern

Name:
Claire Baum
Age:
25
Squad:
Crimson Lions (Intermediate 5th Class)
Relation to player:
Claire was born to a family that owned a flower shop in Kikka. While she didn't have it as hard as those who grew up in the forsaken region her family lived each day meal by meal as the shop didn't make enough money for anything else. Once she turned fifteen should would get her grimoire. To most peoples surprise it was a four leave clover with her being blessed with Spatial magic. She would use her magic to teleport people to place to make a little extra money. One day when she was taking someone to the royal capital she would see an ad that showed the vermilion family was looking for a new maid as one had just retired. Claire would show up to the estate in hopes of getting the job. Much to her surprise she would get the job. So she would start her new job sending back so of the money she made back to her family.
While her job was that of a maid she would actually watch over Silas for the most part. A few years later Silas would join the magic knights and end up moving out of the estate to a house in Kikka. Silas' mother and father would ask Claire to move in with him since he was an up and coming magic knight so he wouldn't have the time need to take care of the house on top of his magic knight missions. She would agree and the two would move. While they lived in Kikka Claire and Silas would form a strong bound as even though her job was to be his maid he still helped out cleaning the house. A few months would pass and Silas would end up becoming the vice captain of the crimson lions. So they would once again move but this time it was to the crimson lion base. Once moving to the base Claire would be somewhat out of a job as the crimson lions didn't need a maid. On her down time she would notice that Forrest was stuck doing most of Ardere and Silas' paper work as they weren't the best at actually doing it. She would then meet with Ard and Silas' asking the two lions to let her join the squad as secretary that would take care of most of the paper work. The two lions would agree but she would also become Silas' assistant going on mission with him when needed.
Key Personality Traits


Kind


Intelligent


Hard working


Protective/Over Protective of some people (Silas,Ardere,Emily,Forrest)


Rank:
Senior
Grimoire Tier:
Platinum
Element:
Spatial
Magic Specs:


Supp constructs
Healing
Defense Creation


Perks:


Self Repairing:

Self Repairing: If your defensive spell has taken damage but is still standing at the end of the post, it will naturally repair itself to full durability. This can only target a single spell a post. Can be used 3 times per cast of the spell.




Juggernaut:

Juggernaut:Twice a thread, a player can cause an equally ranked offensive based spell that would normally destroy or injure their defensive spell to be completely negated.



Regenerating Skin:

Regenerating Skin:Those with this perk will naturally have their mana skin regenerate a single junior rank worth of damage a post. This will not cause the mana skin to exceed its natural total amount. Once they hit grand, this will increase to intermediate.





Headstart:



Headstart: Those with this perk naturally can move 5 m/s faster than normal. This increases to +10 m/s at grand and +15 m/s at Archmage!



Archangel's Blessing



Archangel's Blessing: This perk allows those with the healing spec to heal multiple targets without losing any of their spell's potency.



Sturdy Equipment:



Sturdy Equipment: Items crafted by Supplementary Constructs will now need an additional +5 power to break them. At Grand rank this increases to needing an additional +10.



Healing Specialist

Since your Magic Knight Specializes in Healing Magic, all healing spells also give a Mana Regain of 10% of your target's mana pool, this should not target one's self!




★ STAT TABLE
| | | | | | |
| --- | --- | --- | --- | --- | --- |
| POWER | STAMINA | DURABILITY | SENSORY | CONTROL | TOTAL |
| 2/rank | 2/rank | 2/rank | 2/rank | 6/rank | -------- |
| 4 | 80 | 90 | 4 | 89 | 267 |
| | |
| --- | --- |
| MANA POOL | SPELL SLOTS |
| 210 | 2/5 |
★ SPELLS
Spells
Name of Spell:
Neo-Space Sanctuary
Elemental Type:
Spatial
Rank & Spell Type:
Intermediate|Supp Constructs|Healing
Range & Speed:
40m
,
Seemingly instant (20m/s)
Mana Cost:
20|10
Stats Effected: NA
Applicable Perks: Archangel's Blessing,
Healing Specialist,Sturdy
Equipment
Description:
Upon casting this spell Claire is able to make an entrance and exit portal that allows her to teleport her teammates anywhere within a twenty meter area as long as she can see the spot herself. Once they go into the portal they are healed for intermediate damage. Due to archangels blessing regardless of how many people use the portal they will all be healed for full rank of the spell. Also because of Healing Specialist anyone that is not Claire that uses the portals will get an extra ten percent mana regen. For every thirty control she has Claire is able to make an extra exit portal however no matter how many portals someone goes through they will only be healed once. The portals are able to teleport anything ten cubic meters in size.

Name of Spell: Returning Lost Star
Elemental Type: Spatial
Rank & Spell Type: Intermediate|Defense Creation|Supp constructs
Range & Speed: 40m, Seemingly instant (20m/s)
Mana Cost: 20 | 10
Stats Effected: +6 durability
Applicable Perks: Self Repairing,Juggernaut,Sturdy Equipment
Description: Upon casting this spell Claire makes a portal that is able to block incoming attacks. If she has 10 more durability or control she is able to open another portal redirecting the spell in a forty meter area the second portal goes off the ammo rule. If her teammates allow her she is able to redirect there spells regardless of stats as long as the spell is of the same rank. If her portal comes into contact it will negate the spell regardless of stats because of the nature of her magic the spells have to be the same rank. For every thirty control she has she is able to make another portal. Portals can only teleport objects that are ten cubic meters or less.
MADE BY NOVA