Post by Isabelle Erabus on Mar 8, 2019 0:32:38 GMT -5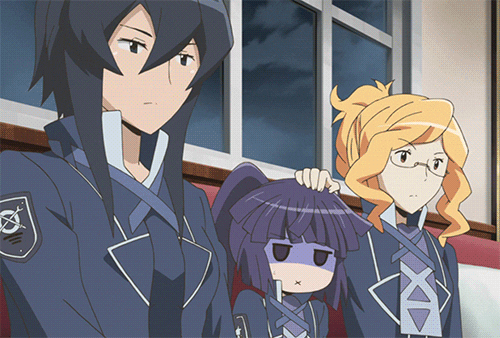 As Isabelle began to make her descent down the staircase, she took notice of how it wasn't as if it was chiseled out. And it wasn't a natural decline, as much of the rest of the cavern had been more natural looking. These were finely crafted stairs. They were made out of a white marble, with ornate designs inlaid upon the railings. Every so often there would be a small landing with magical flames held within braziers. It was quite a bizarre thing to see randomly in the middle of this cave. Though running her hands along it felt nice to the young mage. As she was looking at the designs as she descended however, something was somewhat off putting. She noticed it almost looked like the railing was detailing everything she and Eli had just gone through on the first floor. With these etchings depicting their exploits. It was somewhat unsettling to her, but she continued on.
As she continued down the staircase, she could hear the sound of Eli behind her, traveling at his usual pace. Slowing down just the slightest so she didn't outpace him, she would summon her wolf for comfort and took a deep breath. Looking down at the ground, she began to speak. "Thanks for understanding..." She would say, her voice trailing off. She was holding onto the fur of the wolf for support, it was hard to talk to him. But being able to talk with him was a step in the right direction! And it was something she was somewhat proud of herself for being able to do. The rest of the trip was spent in silence, at least on her end.
Through the pounding of her own heart, she didn't know if she could handle the pressure. But she had made it this far, so she had to continue. And the faster that they made it to the bottom, the faster they would finish this. But she would have to tell Rosalia that she was able to go alone with Eli today! So she would have to hurry back for that. Speaking of, she really hoped Rosalia hadn't noticed she was gone yet and was worrying about her. As long as she was down here, there was no way for Rosalia to contact her. Though they were making fairly good time, so it wasn't like she would need to wait for long.
-- Start Floor 2 Room 1--
As the final level started to come into view, so too did the noises. It sounded like eating. Which surprised her, it caused her to wonder what was down here. Even though she had attempted this dungeon twice before, both times having to leave earlier, she had never made it this far down before. So she wondered if it would be more of the lizards, or if there was another foe on this level.
As she stepped onto the landing, she was greeted with a somewhat familiar sight. It was another large cavernous room, with not much there except for the illuminating gems, and the same old lizards from before. Well, she presumed the same lizards, they looked the same at least. However, what she was not expecting, was that the 7 standing lizards could be seen hunched over the dead body of another one. As they were ripping chunks out of it to eat. That explained where the chewing sounds were coming from. And it almost made her want to hurl.
"Oh god..." She would whisper. These creatures were truly barbaric, especially if they were willing to eat their own with no remorse. Managing to maintain the contents of her stomach where they were. It happened to crack a small smile on her face. What was it about Eli that meant she would have to vomit every time she saw him. This was the second time. Their last meeting she had thrown up, even though this time she had wanted to.
Turning to face her wolf, she would nod her head and say, "Let's go..." As the two would begin charging at the new pack of lizards. Hearing the noises of foot and paw on rock, one of the lizards would look up. Noticing the small group charging at them, it would let out a massive bellow. This signaled the other lizards to stop their meal for a second as they too, would start bellowing. She then noticed all of them beginning to cast magic, preparing to spit something at her and her wolf. "Impose!" She would shout as they hurled their spitballs. Splashing onto or around the wolf, they would have no effect. As the two collapsed on top of the group she would shout, "Attack!" Before continuing, with another shout "Friendemy!" On the far back lizard.
Mist slowly seeped out and began to cover it's eyes. It then let out a blood curdling scream and began clawing the one closest to it, dragging its claws along its back. This of course, illicited a scream from the lizard that was having his back cut open. It also allowed her wolf enough time as a distraction that he was able to blind side the lead lizard. Pouncing on it. And beginning to tear it to shreds. Between the two distractions, Isabelle was able to sneak up on another lizard. Not quietly, but her footsteps were being drawn out by the confusion of the lizards.
She came charging up to the second lizard on the right side, her wolf having already pounced the first, and drove one dagger into its leg. Using her other, she did a straight slice along it's back, sending it sprawling on the ground in pain. And continuing her sprint, she jumped onto the third lizard, and utilizing both of her knives. Crossed them, before using both to slit the lizards neck. It fell backwards due to her weight, so she was momentarily stuck under its corpse. Shit, she thought to herself as another lizard ran up and screamed into her face, spraying its saliva onto her. "HELP!" She would shout out to Eli, the lizard being too heavy for her to move on her own. Praying that she was not about to become lizard food.
Spells Used:
Stats: P-5 St-50 Dur-25 Sen-17 Ctrl-60
Items brought:Magic Knight Mantle, Dualing Daggers, White Wolf's
Paw
Name of Spell:Friendemy
Elemental Type: Mist
Rank & Spell Type: Intermediate - Illusion
Range & Speed: 40 Meters, 20 M/S
Mana Cost: 20 Initial, 10 Sustained
Applicable Perks:Master Illusionist
Stats Effected: None
Description: This spell causes a thin layer of mist to coat the target's eyes. While it does not disrupt their vision, is does cause them to see their allies as the target's enemy instead. This causes them to believe through sight, sound, and sensing, that their ally is in fact one of the target's enemies. The illusion causes the target's vision to morph his allies appearance into that of one of the target's enemies.