Post by Airan on Feb 9, 2019 7:11:56 GMT -5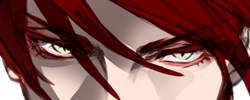 Charles Colaesonis
| | | | | | | |
| --- | --- | --- | --- | --- | --- | --- |
| 18 | | Male | | 6'5'' | 195.6 cm | | 202 lbs | 92 kg |
"Be grateful for me."
NAME:
Charles Cheryl Colaesonis
NOBILITY:
Colaesonis Noble House
ALIAS:
C3 (C-san) / Cherry
BIRTHDATE:
2nd November
BIRTHPLACE:
Kikka
OCCUPATION:
Follower of
Airan
★ APPEARANCE


HAIR COLOR: Red
EYE COLOR: Silver
GENERAL DESCRIPTION: Usually, the first thing to get him noticed is his height, as Charles towers over the majority of the people and few are taller than him. After that, it depends on who is looking at him, but there are many things to take note of.

His build, for example, catches eyes. That is so because even under the clothes one can see hints of musculature. His shoulders are wide, his hips narrows and one can easily see muscles he has wide shoulders, narrow hips and hints of musculature even under the clothes.

His colouring is also something that can catch an eye. The way the somewhat spiky hair in vivid red turns darker or gains orange tint depending on the light. The way his eyebrows and eyelashes are thick and as red as his hair. The way those eyelashes frame the sharp looking silver eyes. The way this colour contrasts with the paleness of his skin. The way he is usually clad in blacks and reds with hints of white and gold.

Or perhaps someone would notice how sharp he looks. How his eyes are often narrowed. How his lips usually are twisted in smirk, with a mocking or dangerous tilt. How there is often a glint in his silver eyes that can have a shadow of danger in it, or provocation. How he more prowls than walks, the gait hinting at the danger that he carries with his whole body.

Sometimes, when prompted, he wears a cloak and hides his feature as well as his House crest.

Some would instead pay attention to his voice, pleasant and deep when not speaking sharply. Yet it is always full of selfconfidence, sometimes going into narcism, shouting or raising his voice when he feels the need to do so.

★ PERSONALITY

Once upon a time, he was a nice boy. Once upon a time.

Now? He is a young man with a lot to prove, pride and obsessions that twisted his mind. Currently he has one old obsession that evolved (getting stronger in his own way) and new budding one that he does not know the exact direction it will lead him to (Airan).

His obsession with getting stronger in his own way, led to him to enjoying seeing the results of it… As such, by now he finds enjoyment in causing others pain and discomfort, or watching others cause pain to others. He enjoys standing over downed opponent and carving the flesh and sometimes life away. He thrives with the violence, being bit reckless with his own wellbeing during the rush of the fight. He enjoys the feeling of his speed and body outwitting the magic of enemies.

There is pride in his words, actions and bearing. Pride in himself and his strength that he obtained despite what people believed. It is why he often speaks as if his presence is blessing to others, as if his success is natural and his failure some sort of mistake. Yet, deep down he sometimes feels insecure with his own magic and its abilities. But he would never admit it and hide it. He tends to remember grudges and either gets retribution on his own or by using his connections.

Influenced by the underworld, he also is turning into quite the casanova, who cares to be dominant in the short relationships for pleasure and rush of dominating the various partners.

Charles is also much, to some people annoyance, rather short-sighted, as he cares for the now, but does not think of how his actions might affect the future. This leaves it to others to clean up the messes he creates.

Spoiled since young, he is also selfish and often prone to whims of getting something and then discarding it, few things managing to hold his interest well.

For all of that he is also loyal, if in his own way. Helena, Mark and Airan could get him to listen to them and follow their words and he would not betray them (in his own understanding of betrayal that is). He would never hurt his parents because he loves them and he also feels the need to know about their wellbeing. Overall he also has some loyalty to his house, he would not hurt typical member of his house, unless it was his age-mates who made fun of him, but even then he would not kill them unless they tried first.

As for Airan, well, the obsession is budding one, so one couldcan not say for sure how it will develop. For now, he merely needs to aware of what is happening with her and be as close as possible and be the muscles she needs and finds it most heart tickling that they have the same birthday. To him it is obvious that she needs him, even if she does not yet realise how much, so he plans on showing her what she had been missing. He also enjoys being called "Cherry" if it is done by her.

★ HISTORY

Charles birth had been an anticipated happening. His mother and father were looking towards his appearance in this world. His parents were from the main (trunk) family of the Colaesonis House, though not in the direct line to eventually gain heirship should something happen to the current heir.

Yet, life lays twisted roads for people to walk on and while his mother (Helena Gregory) and father (Mark Elisabeth) drove to Kikka for some business, an accident happened which started a birth that was over 3 months before the term.

In the chaos, the assailants were taken care off and in mad dash Mark brought his wife to the vacation estate in the Kikka. And thus amidst screams and chaos and blood, Charles was born. In the resulting chaos and the mother-son pair almost losing their life, in the corner of the garden, unnoticed by anyone, a red cherry blossom tree bloomed off-season for moment, before the red petals were scattered by the unforgiving November wind.

The mother was saved, the child was born, but there were… Complications.

His mother gained a new obsession, mainly him. Having almost lost him, she grew overprotective of him, spoiling him yet not letting him deal with anything dangerous. At the same time, his father gained an obsession to cleanse the Clover from the unworthy filth (bandits) that made him scarcely seen.

And being born too early, the young Charles was sickly at first and his capability for magic seemed to have been damaged. He could not affect any plant in the house, his control over his mana was non-existent as was his ability to sense anything.

Thus, he grew up spoiled, yet at the same time disregarded, where his birth itself was a miracle so his lack of magical aptitude was simply brushed away… By his mother at least.

Because the other children from the trunk, boughs and twigs families out of the eyes of the adults, were quick to hammer that home. As even without Grimoires, they could affect various plants and flowers, coaxing vines, while he could do nothing of the sorts.

Thus he decided to simply get better and when they tripped him with roots, he learned to avoid them and then quickly run towards and hit them. He grew obsessed with physical fitness, with getting faster and showing them that just because he could not affect plans, they could not look down on him. His health improved and he grew taller and taller with each year.

Sometimes, his father took him with himself when he was bandit hunting, to show him the dangers of the world. There, Charles saw carnage and torture and pain and he found out that he liked it. So he continued going with his father from time to time, to observe the master at work and somehow, the father-son bonded.

To give his parents face, the adults did not say anything about what dud he was in his presence. But in private, well. There was a reason why children kept giving him trouble. After all, a boy from the trunk family not being able to affect any plant was a disgrace, were they sure that he was a of their stock?

And then, in the Silva town, aged fifteen he got his own Grimoire and then, it was proven that his magic was plant-oriented… Just that it could affect and deal with only one plant, red cherry blossom tree.

An… Acceptable magic, if the lack of his control was embarrassing. He was not expected to amount to anything by anyone in the family, even by those who clearly loved him.

How could he agree with that? He could not. Thus he started to act out, cause fights and slowly gain just a little control to get himself capable of using magic… And then he wanted a sword, so he got a sword. Again, to not anger his parents, no one said anything and they let him do what he was doing, no one expecting him to cause any real trouble.

He got with the wrong crowd, or right crowd, mixing with the lowlifes and finding an outlet for all his repressed anger. If he went away with scratches and the other person did not walk at all, well, nothing he could do about it. He enjoyed it, the thrill, the outlet, the place that could let him explore ideas, the darkness beckoned him and he entered it with a smirk and gleaming eyes.

Then, when he almost seventeen, his whole life got turned on its head. A meeting in an alley and he was gone. Or would have been gone, were it not for her, who healed him. Sure, she wanted money in return, but the moment he saw her, he was gone.

And then, he stuck like a leech and followed her, until she agreed to let him become her follower to repay the debt; a load of bullshit, but he was desperate to stay close.

And thus, he continued moving in the darkness, following the footsteps of the woman, sometimes resurfacing into the light to meet with his mother and father for some hunting.
...Lately he is eyeing the Magic Knight, mainly the Green Mantis, but for now stopped thinking about it seriously because of Airan.

★ COMBAT
GRIMOIRE:
Bronze
ELEMENT:
Plant (Red Cherry Blossom Tree)
MAGIC SPECIALIZATIONS:
Attack Creation


Physical Reinforcement
CHARACTER PERKS:


Physical Perk - Headstart


Those with this perk naturally can move 5 m/s faster than normal. This increases to +10 m/s at grand and +15 m/s at Archmage!



Physical Perk - Extra Shields


Those with this perk will have their total amount of mana skin increased by an extra Senior rank spell's worth. Once the player hit Grand this will increase to Grand rank.



Magic Spec: Attack Creation - Double Tap


Those with this perk may use an offensive spell twice in a single turn at an increased cost of 25% mana than the original spell. This cannot be applied to Grand or Archmage Spells.



Magic Spec: Physical Reinforcement - Full Blitz


By taking this perk, your magic is able to push past the normal limits of your bodies speed. When using a Physical Reinforcement spell that buffs your speed, you can increase it by an additional 5%. At Grand Rank you can increase said spells by 10%. (Note these bonuses do not stack.)




COMBAT STYLE:


Charles uses speed to get into the face of enemies, then magic or sword to hurt those enemies. Hit fast then hard is his Modus Operandi. As such, he is somewhat reckless with his defence, seeing dodging as the only defence. That is so because of his belief in his tougher than usual mana skin to protect him from the worst and then belief that Airan would heal any wounds he could gain.

Stats:


| | | | | | |
| --- | --- | --- | --- | --- | --- |
| Power | Stamina | Durability | Sensory | Control | Total |
| 30 | 15 | 0 | 0 | 11 | 56 |
★ Spells
JUNIOR RANKS

Name of Spell: Lightening Bloom
Elemental Type: Plant (Red Cherry Blossom Tree)
Rank & Spell Type: Junior | Physical Reinforcement
Range & Speed: Self | 10m/s (Near Instant)
Mana Cost: 10 | 5
Stats Affected: +35% Speed
Applicable Perks:
Full Blitz - By taking this perk, your magic is able to push past the normal limits of your bodies speed. When using a Physical Reinforcement spell that buffs your speed, you can increase it by an additional 5%. At Grand Rank you can increase said spells by 10%. (Note these bonuses do not stack.)

Description: Half-transparent branches of blooming red cherry tree form around Charles before seemingly gently and lightly entangling him and increasing his speed. Even when they are cut or torn, more seems to grow to take their place as long as he keeps up the spell. Only if targeted by Hex and Curse spells, might those branches get weakened (causing the red cherry petals to scatter and few branches wither, or destroyed (causing them to wither completely).


---

Name of Spell: Quick Blade
Elemental Type: Plant (Red Cherry Blossom Tree)
Rank & Spell Type: Junior | Attack & Physical Reinforcement
Range & Speed: Self & 10m AoE | 10m/s (Near Instant)
Mana Cost: 10 | 5
Stats Affected: +35% Speed
Applicable Perks: N/A
Full Blitz - By taking this perk, your magic is able to push past the normal limits of your bodies speed. When using a Physical Reinforcement spell that buffs your speed, you can increase it by an additional 5%. At Grand Rank you can increase said spells by 10%. (Note these bonuses do not stack.)

Description: Red cherry blossoms form around him, fluttering around him as his speed is increased by the mana running through him. At the same time next to him or in his hand forms a copy of Byrrus (a type of single-edged, long curved sword with blade length of 35.1'/89.2cm) made of red cherry blossom tree. Said tree-made blade can be used with hand(s) or let it be a floating sword that Charles can control with movement of his finger in area of 5 meters around him.

For every 15 in Control he can make another copy of the blade
Ookanehira from TOUKEN RANBU
MADE BY NOVA