Post by Felix Krane on Nov 25, 2018 14:57:03 GMT -5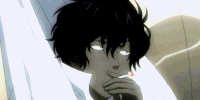 FELIX KRANE
"I don't care what people think of me. but i will make sure that my family regains the respect we lost."


NAME: Felix Krane
ALIAS: N/A
BIRTHDATE: June 21st
BIRTHPLACE: Nairn (Krane Estate)
OCCUPATION: Magic Knight of the Azure Deer


★ APPEARANCE


HAIR COLOR: Raven Black
EYE COLOR: Golden
GENERAL DESCRIPTION: Felix is of an interesting sort. Like many members of his family, he does possess the notable traits of the Krane bloodline, being that his magic focuses mostly around the creation of mist, and that his hair is exceedingly dark. However, he towers over some of his family in terms of height. Combining this with the naturally messy nature of his hair and his far darker skin than other members of his family have, and Felix is by far the easiest member of his family to pick out of a lineup.

And yet..he seems to relish in this, often making sure that his hair is placed in such a way that a very curious part of his figure is shown off: The series of what can only be described as either scars or birthmarks on his forehead, each one being lined up in the shape of crosses, of all things. Of course, this is only for when he is needed for some kind of noble event. Otherwise, it is normally left to just fall as it deems fit.

And yet, he is very clearly someone who is not lazy. If he was, his figure would be that of nobles who actively stay away from the idea of becoming a magic knight. And yet, he has a figure that is more aligned towards that which would be seen in a commoner or magic knight. Of course, this is also reflected in his choices of clothing.

In terms of outfits, Felix seems to generally have no real sense of style, wearing anything and everything that he deems interesting. With that in mind, there is always one constant with Felix. The scent of smoke. Unfortunately, the young man picked up the habit of smoking some time ago, and the scent likes to cling to his clothes and body.


★ PERSONALITY


As magic knights go, Felix tends to show traits that most would think of the ideal knight having. He is someone who is always full of cheer and confidence, doing his best to make sure that everyone around him is put at ease. He is a very charming person to be around, and is always capable of changing when the situation calls for it, while retaining an intense loyalty to those he aligns himself with. And yet..he very often comes to forget things, and can very much lack patience, or even the drive to do things right then and there. While kind to people, he still displays the traits of someone of noble birth.

The dissonance between his noble birth and the way he treats others is interesting, perhaps even brought forth due to being part of the single poorest noble family in the clover kingdom. Of course, he has his quirks. Like many nobles, he has a hard time ascertaining the value of smaller quantities of things, as the things that catch his eye usually cost in upwards of the thousand mark. While he does come from the poorest noble family, that hasn't quite put him on the same level of frugality as commoners. However, this is something that he doesn't seem to see any need to fix, as it is not actively harming anyone.

As for dreams, he has merely one. To raise his family up to their former status in the eyes of their peers. Living as a member of the Krane family has resulted in listening to quite a few scathing remarks about him and his whole family for merely attending events that he was invited to, or running into members of other families. All he really wants is for his family to be given the same amount of respect as the other noble families give to each other. Unfortunately, the only way to do that is to dig his family out of the debt that has been incurred. Still, it would be inaccurate to say that he doesn't take at least some pride out of working as a magic knight..
★ HISTORY


Being born a noble is a feat that most people wish would have happened to them. And while there are nobles that very much wish to not have been born into such power and responsibility, Felix is not one of them. All his life, Felix has been proud of his name and family. And yet, these very things are also why he has become who he is. Felix was born into nobility, yes. But he was also born into the upper nobility with the single lowest standing. The Krane Family. While yes, they do tend to have just as much magical power as other nobles, they have far less influence, and tend to be looked down on by other, more influential noble houses.

Still, Felix grew up wanting for nothing. He had fine clothes, ate fine food. Generally lived with a very high quality of life. But his life did lack in one thing. Respect from his peers. In every interaction with noble families, he heard the adults constantly chattering about what his family would lose next, and how they should be too ashamed to ever come to these kind of events. He bore the weight of this disrespect with a smile, of course. He had been taught about how to act civilly, even when insults were being thrown one's way.

For fifteen years, Felix listened to them talk about his family, and heard of the internal struggles when he was not around other nobility. All the while, he practiced with the magic he knew: Mist magic. He was not unique, as he had heard of at least one other member of the family that used this particular magic, and most had a gas based magic anyway. But that wasn't the point. The point was to learn what was special about his. One thing quickly became clear. If he wasn't careful, he could catch things on fire using his mist.

Still, one day the grimoire assignment came. And when that happened, Felix was granted the usual power that a noble would be given. However, something interesting was noted. Most people's spells only took on a couple of specific aspects. Always two. But Felix's was..different. As he read his grimoire for the first time, it became that he had the ability to expand his senses, heal others..and deal damage. It was intriguing to him.

Of course, as he grew up, his family found itself losing more and more money, and the little respect they had continued to dwindle. So when he gained his grimoire, and saw how varied his new abilities were..he decided that he would become a magic knight. While it was hard to actively force himself to do the work and practice needed to hone his skills, he was eventually able to do so, and through connections with his family along with his varied skills, he became a new member of the Azure Deer. Unfortunately, he became a magic knight at a very inopportune time. He was given six months of peace and normal jobs before the unthinkable happened.

Civilians were discovered planting traps and feeding information to the Diamond Kingdom. Thus, the seeds of war were planted. As a healer, Felix began to see more and more of the kingdom as he was sent from place to place to help provide treatment to magic knights on the border who found themselves being injured in combat. Of course, he saw his own fair share of combat. The next four years of his life were filled with the sight of injured soldiers, dead bodies. Shantytown after shantytown. But he never lost heart in what he does. He became a Magic Knight for one reason: To help his family gain back some respect that they lost. He will stop at nothing to make that happen.


★ COMBAT
GRIMOIRE:
Silver
ELEMENT:
Mist (Fire Oddity)
MAGIC SPECIALIZATIONS:
Sensory, Healing, Attack
CHARACTER PERKS:
Cycle of Rebirth:
Those with this perk start out their new character as a base new character (Base Stats of 45). They gain 0% of their previous Spell Points, Gold, or Items. They gain 20 Spell Points, and 1,500 gold. They automatically gain 1 Grimoire tier above their previous life (If this Perk gains the character a Platinum Tier Grimoire, they will roll as random to see what type of Element that get from the Platinum Elements). However, if they are already a Platinum Tier they roll back over to a Copper Tier. You must make a new character and can't use your previous Face Claim, Personality, or Magic Type.
✤ Extra Specialization:
Beginning in your junior rank your magic knight has the ability to specialize in three different types of magic specializations instead of two!

Takes up TWO Perk Slots.

Your character also has the ability to gain fourth sub specialization at Intermediate level Grimoire and a fifth sub specialization, however this is only reachable when you reach a Grand Magic Level Grimoire

Elemental Oddity:
A quirky perk that allows ones element to naturally gain a property that is not naturally associated with that element. This does not give your element any sort of advantage or weakness over another element. It will still make them 100% the same strength/weakness as before. It is purely for flavor purposes or can add a different means of dealing damage, like adding a burning like feature to an element that would not normally have said feature. For example: water that burns like acid. When picking this oddity, please limit the effect to something that is in your element's grimoire tier and do not make it broken. Staff can at any point in time force you to change it. Elements oddity can be turned on or off depending on the spell being used. If a spell is going to utilize the oddity it should be made mention in the spell's creation!

Your oddity is [FIRE]
Apex Predator:
For every Attack creation spell that deals damage on a person, you will gain +3 power stack-able buff caps after 5 attacks or +15.
Archangel's Blessing:
This perk allows those with the healing spec to heal multiple targets without losing any of their spell's potency.
Illusion Weaver:
Those with this perk will now be able to utilize the Illusion Skills from Sensory Spec.
COMBAT STYLE:
Honestly, Felix doesn't seem to have much of the makings of a fighter. His magic is that of healing and illusions, at a glance. However, it is these illusions, combined with his odd ability to create heat within his mists that leads to a greater depth of combat. Felix's preferred place in combat is to be at range, using his mist to either create illusions to throw off his enemies or heal his allies most of the time. However, he is more than capable of fighting back, should it be needed. While he is well known for creating large areas of burning mist, his attacks can be more simple. He has been known to launch small darts of compressed mist that ignite things from time to time, but generally, Felix is set up in the back of a battlefield, tricking opponents and healing allies.
TYKI MIKK from D. GRAY MAN
MADE BY NOVA