Post by Ciatria Shayama on Nov 20, 2018 20:31:23 GMT -5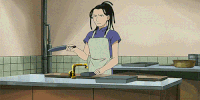 Ciatria Shayama
"Look, I don't really want to fight. I'm more interested in making sure everyone stays okay. but if you want to keep pissing me off, i can certainly flip that script, and that switch. Are you sure you want me to do that?"


NAME: Ciatria X. Shayama
ALIASES: "That poor woman", "The glassmaker"
BIRTHDATE: April 23rd
BIRTHPLACE: Kikka
OCCUPATION: Wandering Citizen


★ APPEARANCE


HAIR COLOR: Black
EYE COLOR: Brown
GENERAL DESCRIPTION: Generally, women can be stated to normally be shorter than men. Ciatria is one of the few examples of this not being the case, standing at a whopping five feet and eight inches tall--the average height of most men. That being said, it is the only trait she shares with most men. Ciatria is unashamed of how feminine she is, often wearing clothes that do actively show off her chest while still retaining a decent amount of modesty. Her most well known outfit is that of a white button up blouse and pants that go down to just above her ankles.

However, she will wear anything that is both comfortable and feminine. Of course, given the nature of her toned and slender figure, she can make due with seemingly anything. As for the rest of her however, it is deceptively simple. Ciatria's hair is a very plain black, and her eyes are a normal brown, even though they very nearly look to be black. Honestly, the strangest thing about her hair is the style she keeps it in.

She appears to keep it in dreadlocks that are mostly tied back into a ponytail. However, questioning this will immediately get you corrected. They technically are box braids that she keeps tied back into a ponytail. She isn't against changing this hairstyle up, but it is very much the one she has become accustomed to. The final notable thing on her body is a tattoo that is on her left breast.

According to her, it was a symbol that used to be emblazoned on her house when her partner was still alive, and marked them as being a makeshift hospital of sorts for those who needed cheaper treatments, or only had minor ailments. Other than this marking and the aforementioned things however, Ciatria is fairly normal in terms of appearance.


★ PERSONALITY


Generally speaking, most people who run into Ciatria call her a genuinely good person. She is always very friendly and exceedingly pleasant to most people, and shows great compassion and enthusiasm when it comes to helping out. This compliments her generosity rather well, as she has always been known to leave her home open to those who need any kind of medical attention, along with usually donating what she can spare to her local church.

However, this is just one side of her personality. While she is very friendly and calm, she can also use that same exact tone to be cripplingly blunt, calling out what she perceives as faults using the same tone that most people would use to talk with a friend. On top of this, she can be very stuck in her opinions, not budging in the slightest until someone has tried for days, maybe even weeks to change what she thinks. Of course, that would be on the more extreme things. Like when friends convinced her to not keep herself shut in after the death of her partner.

Of course, she isn't all kindness and stubborn refusal. She has a limit. And you will know when you start to approach it, as her level of sarcastic replies to everything become more and more prevalent and hostile. Of course, should one completely set her off, it becomes apparent by how she becomes openly hostile and aggressive. To mess with Ciatria to this point is to have essentially been poking the tiger. Do so at your own risk.

On a more minor note, Ciatria likes a good number of things. For one, she has quite the sweet tooth, preferring any kind of sweet she can get her hands on. However, there is one exception to this. Coffee. She drinks coffee with merely milk in it, instead of anything sweet. As for dislikes, most all bitter and sour things apply. And yet, she has no real opinion on spicy things. Put it in front of her and she'll eat it without complaining, but offer her something else and it's an even chance that she'll pick that other thing. Other than these things, she has no strong opinions on other flavors and whatnot.
★ HISTORY


Born thirty five years ago, Ciatria has lived her entire life in the city of Kikka. She was born as the only child to the Shayama family. While they weren't exactly poor, Ciatria's family didn't grow up in the lap of luxury either. Ciatria was like any other kid, and ran around with the children of Kikka without many cares, only being excited to get her grimoire. However, unlike the other children of Kikka, Ciatria always had people going in and out of her home, as her parents used the extra room of the house as a type of inn. Unfortunately, this sometimes was also used as a room for those who were injured in some way or another, as her father had a degree of medical training due to his own father. Growing up in this environment changes people after a time. And this was the case with Ciatria, as she eventually became an assistant of sorts for him.

Eventually however, Ciatria grew up and was chosen by a grimoire. She had always been rather gifted with magic, and had been very willing to help her father in any way she could. However, the ability to create glass could only help so much, and was something she tried to keep unknown, to an extent. Then came the day when she was granted her grimoire. In the excitement of the moment, it became known, and her skill with magic became very well known.

And yet..she didn't do anything with it. While everyone tried to convince her that she should try and join the magic knights, and that she had plenty of skill to become well known in that realm of life. However, it wasn't what she desired to do. She had no desire to go out and do combat with others, even if her grimoire held plenty of options for her to both defend and fight people. So over the years of dismissing other people's questionings, she eventually managed to find someone with a similar taste. A young man by the name of Antone. They started dating at the age of sixteen.and by the age of twenty, the two married, and life began a cycle. Where she was an assistant to her father, she became a partner to Anton, painting a sign of the very symbol emblazoned on her chest to hang in front of their house. For ten years, they lived happily.

Then tragedy struck. Anton suddenly became very sick, dying of a disease that nobody could diagnose, not even her own father. In the blink of an eye, Ciatria was a widow. For the next four years, Ciatria retreated inward, making her money by using her magic to create glassware and decorative pieces for clients. But there was no passion to it. No emotion. What few friends she had spilled away more and more as she continued to retreat inward. However, a handful of them stuck to their guns, and managed to get her to open back up, and even convinced her that she needed to take time to go out and explore the world, maybe find herself again. So that is what she has been doing for the past year. Crafting glassware and things to make money for herself while exploring, and even getting into the occasional scrap or two to keep herself safe.


★ COMBAT
GRIMOIRE:
Bronze Tier
ELEMENT:
Glass
MAGIC SPECIALIZATIONS:
Defense Creation, Attack Creation
CHARACTER PERKS:Vengeful Soul:
Those with this perk allow a character to be resurrected in another new topic (must be RP'ed out). They will maintain 75% of their previous Stats. They will gain 0% of their former Spell Points, Gold, or Items. They will maintain their current Spells list(s). They get to keep their character as it was, and they maintain their previous Grimoire tier, Rank, and Element. This can only be applied once per 6 months in real life time, if you die before your next chance, you will die and have to re-roll grimoire and make a new character gaining only 50% of stats and spent spell points, 0% gold, spell points spent, and items.
Faux Potential:
Those that take this perk at creation can pick an element from a tier 1 higher than your own. This cannot be applied to Gold ranks. Though you have the element you will not gain that grimoire's bonuses just the elements'.
Mana Conservationist
Mana for spells costs you 80% of the original cost. Mana maintenance is reallocated to be 50% of the new spell cost.
The Acrobat:
Those with this perk seem to naturally be rather nimble and flexible. They are able to pull off stunts utilizing their body that most could not even attempt. Want to do a flip without the add of magic? Go for it. How about scaling a wall? Easy peasy lemon squeezy. The utilities for this perk are nearly endless but please do not go overboard, you are still a human after all, if a feat could not be done by a normal human that is highly skilled in real life than it should be assumed that it could not be done here.
Juggernaut:
Twice a thread, a player can cause an equally ranked offensive based spell that would normally destroy or injure their defensive spell to be completely negated.
Overpowered
Attack Creation spells need 5 points less in power in order to break through an opponents' spell that utilizes the durability spec. Same Spell Rank Only

This ability has a Two post cooldown.
COMBAT STYLE:
Ciatria doesn't like to fight. That being said..when fate conspires to throw her into a situation where she needs to do battle, she is very easily capable of being either a potent fighter at all ranges, or a defensive shield for anyone she works with. That being said, she has a hard time creating mobile barriers. So when an ally needs protected, or a single barrier to hide behind won't work, she has a penchant for summoning forth armor made of glass onto herself or an ally, allowing her to keep moving. Her fighting style is very much about mobility and protection, but should one enrage her enough, she has been known to send full sized knives and swords made of glass flying towards those people. Really, be wary of Ciatria, as she can switch back and forth at a moment's notice, should she need to.
IZUMI CURTIS from FULLMETAL ALCHEMIST: BROTHERHOOD
MADE BY NOVA