Avocado
Oct 23, 2018 20:10:02 GMT -5
Post by avoca on Oct 23, 2018 20:10:02 GMT -5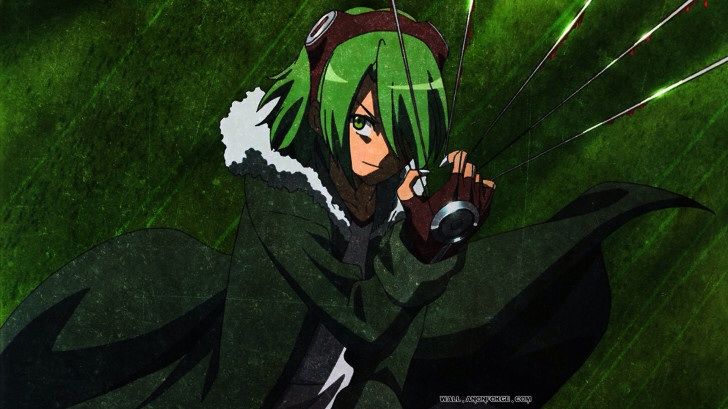 AVOCA DELGADO
| | | | | | | |
| --- | --- | --- | --- | --- | --- | --- |
| 15 | | Male | | 165 cm / 5' 5" | | 56 kg / 125 lbs |
Every new beginning comes from some other beginning's end.


NAME: Avoca Delgado
ALIAS: Avocado
BIRTHDATE: December 25th
BIRTHPLACE: Forsaken Region, Sosshi
OCCUPATION: Wandering Citizen


★ APPEARANCE


HAIR COLOR: Green
EYE COLOR: Brown
GENERAL DESCRIPTION:
Avoca is a young man at the age of fifteen that stands about five feet five inches tall and has a weight of about hundred an twenty-five pounds. A dark skin tone with an ectomorph body type, which has two main traits that are; fast metabolism and a great challenge to gaining weight. This body build is the leanest of them meaning that most with this type are that of being skinny as a twig but in his case, it's more of that of being slim. With past waist-length green hair that covers his left eye in the front and brown eyes. Originally all he had to wear on his body were all dirty and nasty smelling rags.

But once out about and how to use his magic he found a way to make his own clothing out of string. So he did just that and there are only two outfits planned out for him so far, they are; to begin with is that of a plain orange prisoner jumpsuit and a pair of black flats on his feet. Along with some cloth bandages over his right eye, neck, right hand, and right foot. Those bandages are to cover up wounds so that they would heal right and hopefully not get infected. This very simple and basic outfit will be what he wears till he is taken in by the magic knights or criminals. Then at that point, he will notice that his outfit is finally a bit too much out of place and create a new one for himself. Starting off with a long green jacket with a fur-trimmed hood over a white, red ringer shirt, and blue jeans with brown shoes. Occasionally he will change his jacket into that of a long black coat with a black fedora hat to use as a disguise. The bandages are gone from the areas of his body in his first outfit and what is left behind are a much of scared up skin that almost looks like nothing but a mess. While atop his head are the only thing that he didn't make himself are red goggles that he found after getting a grimoire. So he kept them for what he believes is good luck but they might belong to someone else.


★ PERSONALITY


Avoca is that of an extremely free spirit, he loves to just be out and about do whatever he feels like. Tho he loves to enjoy himself is not one of those to play or work well with others. Just because of what his parents had done by leaving him alone like that gave him really bad trust issues. No staying that he won't open up but you will have to give him time to do so at his own peace. Even tho he has his problems, Avoca is looking for some kind of group to call his own and to live with like a family. It doesn't matter to him if it is a magic knight squad or a criminal group. He just needs someone(s) to be like that one person back in the prison that would just openly accept him and that he could feel happy around them. As well, finding out his family and the reasoning for them to abandon him in the first place are still things he really wishes to know. Tho he has spent quite some time alone sense back within the prison, Avoca absolutely hates to be alone really hopes that it will soon all be over.


★ HISTORY
The starting off of Avoca's life had been pretty grim due to the fact that he had been left abandoned on a window ledge of a prison. Most would think that this would be the in of a child's life but luck had been on his side even as a baby. One of the prisoners from the inside had been able to reach up and grab him, then was about to pull just him through the bars because he was so little then grabbing the blanket he had under himself. This random stranger to him had taken him away from what would have been sure death for a baby on its own. Thanks to the kindness of a prisoner of all people to take a someone in while they are trapped within here. Avoca had been able to live out with his life even if it wasn't the best because he had been only ever inside the single bared up room. The only great that came out of the time within the prison was that of his magic show up and he was able to create himself and the one that took care of him some decent clothing instead of the rags they had both been own for so long.
As it had grown near the time of what would be his fifteen birthday the one taking care of him had told Avoca about the 'Grimoire Acceptance Ceremony'. He had really wanted to go to it so over the following few days he had tried everything he could think of to get out the cell. That's when he had learned about the ability to change the property of his string to match that of the copper bars and was about to open the gate. So when he had been able to break free even those he wasn't to be locked away in there in the first place. As he was leaving he should his magic to free everyone so that he would have a better chance to get away. Tho sadly the one that raised him had been taken back inside and more than likely beaten for trying to get away. But he knew that the person would have no matter what wanted Avoca to be free and to get to that ceremony. So that is what he did with both a smile and tears in his eyes he had made it there just in time for the ceremony an was given a grimoire. Form that moment forwards was for him to have a new and happy life. At least that is what he believe...
Now to see if Avoca will end up as a Magic Knight or a Criminal

★ COMBAT
GRIMOIRE:
Copper
ELEMENT:
String
MAGIC SPECIALIZATIONS:
Physical Reinforcement & Restraining Magic
CHARACTER PERKS:
Life Perk
Vengeful Soul
Vengeful Soul:Those with this perk allow a character to be resurrected in another new topic (must be RP'ed out). They will maintain 75% of their previous Stats. They will gain 0% of their former Spell Points, Gold, or Items. They will maintain their current Spells list(s). They get to keep their character as it was, and they maintain their previous Grimoire tier, Rank, and Element. This can only be applied once per 6 months in real life time, if you die before your next chance, you will die and have to re-roll grimoire and make a new character gaining only 50% of stats and spent spell points, 0% gold, spell points spent, and items.
Advance Spec Perks
Secret Range
Secret Range: Those with this ability may now naturally extend the aura of their strength buffs by 1 meter for every 10 in control the player has. This can give your physical attacks a nice little secret. The aura can only be seen by those that have at least 50 in their sensory stat or use a sensing ability of any rank.
Imprisonment of a god
Imprisonment of a god This perk causes your restraining base spells to naturally have in increase durability of +5.
Starting Perks
Mana Conservationist
Mana for spells costs you 80% of the original cost. Mana maintenance is reallocated to be 50% of the new spell cost.
Momentum
Momentum For every post that a person is in combat they will gain +5 m/s in their base speed capping at +30 m/s speed or 6 post. If they step out of combat, their speed boost would drop by 10 m/s per post until they reach their base speed.
Elemental Oddity
Elemental Oddity: A quirky perk that allows ones element to naturally gain a property that is not naturally associated with that element. This does not give your element any sort of advantage or weakness over another element. It will still make them 100% the same strength/weakness as before. It is purely for flavor purposes or can add a different means of dealing damage, like adding a burning like feature to an element that would not normally have said feature. For example: water that burns like acid. When picking this oddity, please limit the effect to something that is in your element's grimoire tier and do not make it broken. Staff can at any point in time force you to change it. Elements oddity can be turned on or off depending on the spell being used. If a spell is going to utilize the oddity it should be made mention in the spell's creation!

Your oddity is [Copper]
COMBAT STYLE:
Avoca is a close to medium fighter, tho he mostly prefers close up fighting. So what he does is by using string to restrain them and/or keep them busy enough fighting with it. Giving him just enough time to get up close to the while using physical reinforcement to increase his own body so that he can perform better against the enemy that is in front of him at that time. As he changes to another enemy after fighting the one before by adapting to the way the battle plays out with his physical reinforcement once again. His way of fighting in close combat is mostly that of a street fight because he had to learn how to defend his own self while in prison. But there was one style that he picked up pretty easily that he learned while fighting someone that had the style of boxing. Ever since then he has been adapting it to the way he uses his string magic. While using his string magic by taking the strings from his own clothing till he is just down to his underwear. There are times where he knows that his string needs a tougher so he will have it change its property into that of copper, which he claims to be wire when it is still just string. The only thing that does change with the property of copper and that is the fact that it has a shine to it, but the string is so thin that it is kinda hard to see if it's not in the right angle or no light to bounce off of it.
Lubbock from Akame ga Kill!
MADE BY NOVA