Post by AVALINE on Feb 4, 2018 11:48:11 GMT -5
[googlefont=roboto][googlefont="raleway"]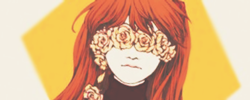 AVALINE VERMILLION
| | | | | | | |
| --- | --- | --- | --- | --- | --- | --- |
| NINETEEN | | FEMALE | | 5'0" | | 110 LBS |
"The seasons always find a way to change. We knew that since that time that we watched the moon and it's brilliance before. "
[attr="class","textspc"]
NAME:
Avaline Reign Vermillion
ALIAS:
Ava
BIRTHDATE:
May 29th
BIRTHPLACE:
Royal Capital
OCCUPATION:
Golden Dawn
★ APPEARANCE
[attr="class","textspc"]

HAIR COLOR: Cinnabar
EYE COLOR: Cerulean
GENERAL DESCRIPTION: There are some things a woman can never quite get away from, and somewhere at the top among-st them is their body. Regardless of form, shape, or size, women over the centuries have obsessed over their physical form, going to great (and often times insane) lengths to improve their looks just that tiny bit more, hoping beyond hope that this time it will be enough, that this one final alteration will somehow make them feel as beautiful as people say they are.

This frenzied desire for beauty is something Avaline has done her best to avoid and, ironically, the very disinterest with what others think of her is what grants the woman the appeal so many of her sex wish to attain; that of being comfortable in one's own skin, no matter what anyone else says or thinks.

It is this comfort-ability with herself that defines all of the mage's actions; whether walking down the street, eating in some tavern, or using her magic capabilities, the woman always appears as if she is in control of herself, leading many to think that she has control of the world around her as well.

Though more than capable of expressing herself verbally should the need arise, much of what people notice about the princess comes from visual cues; the way she sits, the forceful (yet never forced) grace and fluidity of her stride, the ever present sense that, no matter where you are or what you are doing, she can see you, even through the back of her head.

Always looking towards the present, her gaze is often set less on the distant horizon than it is on what's right in front of her; the people, the things, the sights, sounds, smells of her environment all filter into the woman's mind, each sense painting a part of a larger picture than anyone could ever hope to make alone. Often mistaken for someone of high status or acclaim, the young woman's attitude almost never reflects her misconstrued social standing, as an open, inviting smile is her default expression, though only the most observant of people will notice that this smile is rarely reflected in her eyes.

One of the key aspects of her behavior is the distance she keeps between herself and others- even when in a crowd of bustling tourists, the woman still manages to keep everyone at least an arm's length away, engaging those around her without ever letting them draw close. This distance is mirrored in both her speech and facial expressions, as those who attempt to draw closer without her approval are met with disapproval and scorn; or worse, anger and rejection.

The first thing one might notice about Avaline is her short stature, as one might be inclined to say at a grand height of five feet, one inch tall when barefoot, she really lowers the standards at a quick glance. Her weight has remained fairly steady at one hundred and ten pounds, a number that gives her a healthy layer of "padding" to her otherwise small frame. Though she despairs about the "excess" that never quite leaves about her middle and the thighs-- mostly unnoticeable unless she's stripped naked against her will, or otherwise caught in the buff-- Avaline reluctantly acknowledges that she still has what some would consider quite the attractive silhouette; curvy without being unhealthily so.

In spite of being much at a loss to appropriately describe the exact shape of her body (narrow hips with an ample amount of fluff to the rear, thicker thighs on her longer than average legs and a shorter, narrower torso complete with an ample bust and shoulder width), Avaline figures she's somewhere between the "cello" and the "pear" in terms of overall figure and is even more self conscious about her body than before.

Her eyes, though on the larger side with long lashes, are a bright aquamarine and are defined as very pretty; with a standard, oval shape that came naturally to someone of her heritage. Opposite of her natural hair color, Ava's eyelashes and arched eyebrows are a dark color that accent the shimmering hues of her blue colored irises and naturally pink cheeks.

Nearly flawless skin, the girls face is a canvas covered in speckled sun spots. Her freckles just barely visible against the pale surface. Also, as if she bathes in perfume, the girl always carries with her the scent of sweet honey suckle. Its not a nauseating smell, but rather congenial, and pleasurable to most humans.

Normally Ava is a conservative dresser; preferring dresses and skirts whose hem falls to her knees or below, long sleeved and loose fitting blouses, and coats to help her conceal her figure. She is almost never seen in pants, and quite definitely does not seem to own a single pair of shorts that anyone knows about. Color wise, her wardrobe consists of reddish tones like scarlet, maroon, browns from a light to a dark mahogany, and black.

Her voice is fair, flirtatious, and could be described in a sense, very feminine. It lacks depth, but is not high pitched like most young females. Avaline always maintains a sense of dignified formality even among those she is comfortable around and never uses conjunctions or any other form of slang terminology. Her inflection and pronunciation of words are perfect, if a bit enunciated due to her strict upbringing. In terms of pitch, she is undeniably female, as it holds a soft and, melodic quality to her voice whenever she chooses to speak in her normally gentle tone.

An emotionally strong individual, more than often her emotions are conveyed through her voice. With that being said, her voice has a wide range of volume and pitch that will change with her mood. Most of the time her voice is soft (even when she is singing) unless she is emotionally compromised or expressing clear irritation, at that time her tone will not only change pitch, but her speech becomes mulled over in a mumble.

Thus her tone can range from that of an amused acquaintance to one of a jilted lover at a moment's notice; though quiet when not aroused, her voice can take on a surprising enthusiasm when a topic peaks her interest, particularly when it has to do with magic or the magical world. Because of her innate distrust of authority, the woman's temperament and speech rarely changes, regardless of where, when, or who she is speaking with.




★ PERSONALITY
[attr="class","textspc"]

Avaline is a Noble, in every sense of the word. Every pore of her is made up for this task. Not literally. But figuratively. She might not be the best con-artist when it comes to her physical appearance, but with her essence; she's one helluva of a chameleon. She is who you want her to be. She is the person who unlocks your heart. The perfect person. The person you dreamed of - the lover, the charmer, the best friend, the casual friend, your buddy, the dump of your emotions, the one who reminds you of your long-lost sibling, so on and so forth. The list is perpetual. But guess what? She's the one who crushes your heart, soul and spirit into one bloody blob. It amuses her. And amusement is what she lives and strives for. The solidification of a dream; the dream of not living a life that is one long line of fine. But, a life of pleasure, gaiety, ebullience, whatever that makes life feel like a drug.

Ava gives off a terribly confident aura, an imposing demeanor and this bizarre idea that she towers over you - whenever she's being her real self. She appears like the woman who has everything settled in life and can't wait to grab a warm cup of spiced-tea and take a bite of fresh and ripened fruit in the midst of frigid rain, next to her cozy fireplace. However, this is far from true. Her real self, which is only her usual self is not the confident one. Not the very bottom of her soul. It's a broken shard of China glass, never to meet its other half. Within the deep recesses of her heart, she is just an insecure lady. And this insecurity is what fuels her constant need to be someone who she isn't. She's grown to enjoy this sort of trickery, to distort the lives of people and crush them and squeeze them out of the perfectly-fitting mould of life that they've been granted by the dice of fate; which she wasn't entitled to herself. How can you do it without getting close to them? The greatest weakness is love, after all.

The woman lives life with a rush of adrenaline, but that doesn't make her a stereotypical, messy person. She's far from that. She's a meticulous vixen who likes to plan everything to the last T of perfect. If one is to pick up her agenda and check the calendar on it, it's bound to have memos and plans of missions right till the next year. She's that level of planned in advance. And she's out and proud of it. Call it a silly habit of hers and you will not go home unscathed. She is what she is, and you better not bother with it.

Avaline is stand-offish, but she's supercilious enough to think that she deserves the limelight all to herself. As mentioned before, she's generally the shadow of a person who she isn't, which comes from the hope of having her name in every damn corner of the world. She doesn't care about one person, but she adores the idea of a crowd caring about her - about having her opinions be called mattered. She strives to become a person who can influence others, which is not something her real self is capable of - since that is just a stiff and impersonal character who won't even open its mouth to speak. Oh, and she's a fucking genius of a mastermind; going to great lengths with her meticulous details and planning on how to earn the fame that she so desires. She only went with the career of a knight for two things, after all; the rush of adrenaline and the glory.

The woman is a morally black character, and a vindictive one as well. She doesn't give a damn about the ways she achieves her means, but just the results. She'll lie, blackmail, physically torture, manipulate and maybe even murder to get to her ends. And she would not show even a paltry shade of remorse while doing so. Albeit, she's not the vain criminal who would go around and leak about their achievements - if one could call it that - and get imprisoned by a bad turn of events. Avaline is completely mute about her activities and doesn't budge to spill out her deepest secrets in any case. You could be the person who bought her up and fed her, but she still won't come out with her truth for you.

In the end, she is a vibrant snake who lures in her prey, only to ensnare them the moment they let down their guard. Could you see past the bright smile and glistening eyes that she portrays?


★ HISTORY
[attr="class","textspc"]

Throughout life we are told that our lives are worth more then all the gold of the world. Sweet caressing words from our mothers that make us feel special compared to the next person. Yet few can actually tell you the feeling of being worth something; Being worth a lot, being worth a little. Perhaps their weight in gold? Prostitutes, Slaves, and Celebrities each know this feeling, yet they can each tell you something different about the feeling. Some say they like the attention, others are saddened because they are worth less than the soles of your shoes.

Avaline is familiar with both spectrum's; as the second heir she was born with quite the amount of responsibilities, not enough influence, and high expectations. She grew up in the shadow of her brother, always watching him in his destined spotlight, and yet she felt no spite or remorse. She adored her brother, looking up to him like the knight of her dreams, --with innocent and awestruck gaze. He could do little wrong in her eyes.

But that was not the same for her parents. Upon discovery of her brother's well kept antics, the amount of persistent attention she obtained from her fore bearers increased tenfold. They saw him as a disgrace, and in his place she would be taught better. Freedom, desires, dreams; all of them were crushed, destroyed under the weight of her parent's aspiration. The thought of individualism vanished from her mind, and she had her brother to thank for that. Despite that, she still held him in high regard, determined to take the pedastool in order to let him live the life he desired. Ascertain of her parent's ordeals, she made the decision to play their game, and for years was the perfect actress.

It was not long later that her parents had given up hope on her as well. For what use could Flower petals be in magic? They are not sturdy like steel, or strong like fire. Still they paid attention to groom her appropriately, making her study and practice what she could. Though behind her back, they had brought in another child. A commoner who would apparently inherit the family name. This child was going to take what was her's, only because she showed some amount of strength?!

There are still whispers today of the events that took place that night. Servant's still frightened and plagued by the bone chilling screams of young Avaline as she dismantled her room inch by inch. She was perfect, she was made to be perfect, and she would play the part for her family. To save her brother, that was her role.

She received her grimoire at the age of 15, just like any becoming child, yet she remained in the capital for another yet to finish her studies. After the bestowed time, she was allotted to take the annual magic knight exam. Living up to her families name, she portrayed strong control for her craft and the result of her previous hard work under tutelage from the best teachers that money could buy. All of it had to be enough. For her gaze was set upon Golden Dawn, the squad that would for sure lead her to the top, and certainly please her parent's.

The trials were easy; though none of them allowed her to show off her true talents. Her mind for tactics would surely be hidden past these fools with their flashy and grand-scale magics. That was until they pit them against one another in a large battle royale. Most exams all differ from one another, but having the volunteers fight each other one way or another was tradition. This was her chance.

Conventionally participants in a Battle Royale see everyone as their enemy, Avaline however found allies amongst the chaos; A steel user who's element provided durable shields, a snow user who was not strong offensively but could sense magic better than her own self, and a another who manipulate glass. These individuals would be her victory. With direction, it was the four of them versus separate 118 competitors.

In the end, with only the four of them standing, it was easy to watch as the steel user and the glass user attacked each other. Their headstrong personalities made quite sure that neither of them were strong enough to fight against the bitter cold. Yet in the end it was not the snow user who stood amongst the fallen bodies.

White petals gave way to prove her strength as a squad member, and as a mage.

All she needed was their recognition.


★ COMBAT
[attr="class","textspc"]
GRIMOIRE:
Silver
ELEMENT:
Flower
MAGIC SPECIALIZATIONS:


Attack Creation


Healing


Supplementary Creation


CHARACTER PERKS:


Extra Specialization

Beginning in your junior rank your magic knight has the ability to specialize in three different types of magic specializations instead of two! Takes up TWO Perk Slots. Your character also has the ability to gain fourth sub specialization at Intermediate level Grimoire and a fifth sub specialization, however this is only reachable when you reach a Grand Magic Level Grimoire.



Prodigy

Prodigy:This perk allows a person to train their stats with 25% less words than normal.



Mana Conservationist

Mana for spells costs you 80% of the original cost. Mana maintenance is reallocated to be 50% of the new spell cost.



Battle Knight

Battle Knight: Those with this perk may use offensive spells to buff themselves. (Niche:Attack)



Side Kick

Side Kick: This perk allows a person with supplementary spec to be able to gain +3 stat points when buffing others. (Niche: Supplementary)



Archangel's Blessing

Archangel's Blessing: This perk allows those with the healing spec to heal multiple targets without losing any of their spell's potency.(Niche: Healing)



Blessed by Mana

Blessed by Mana:
You may auto gain a grimoire 1 Tier above your past life. You only start with 75% of your last character, no extra boons, Gold, items, or spell points. Can only be applied once every 6 months. (Free Life Perk)



COMBAT STYLE:
White Roses; Avaline's magic is as beautiful as she is. Elegant petals swirling from her silver lined book, manifesting whatever pattern she wishes and carrying with them an intoxicating scent. At the moment, she specializes in supporting her squad members, providing them the succor of her healing capabilities and using her offensive spells while maintaining a safe distance from anything that would otherwise hurt her. A leader type, she is usually the one to give orders on the field, as her position allows for complete control.
ASUKA LANGLEY SORYU from EVANGELION
MADE BY NOVA
[newclass=.textspc b] font-weight:bold; color:#92b4db;font-size:13px;[/newclass]